Binfield FC's Captain Liam Gavin's last-minute header earns the Moles a point on the final day of the Isthmian League season.
Liam Gavin's double including a 91st minute equaliser gave the Moles a point against Leatherhead on the final day of the Isthmian League season.
7th versus 8th on the last game of the season could've potentially been seen as a 'dead-rubber' but it was anything but. The in-form Leatherhead took the lead in the 5th minute when a ball in from the right found Omarr Lawson who finished well into the bottom left corner – his sixth league goal of the season.
Conceding an early goal seemed to help the Moles find their rhythm and they played all the football for the rest of the half. Brad Pagliaroli went close after a long throw from Massimo Giamattei was headed down by Liam Gavin. The Harry Heath had an effort from the edge of the box after some good work from Harvey Harry but he couldn't find the target. Pagliaroli forced a good save from Leatherhead keeper Serine Sanneh right on the stroke of half time.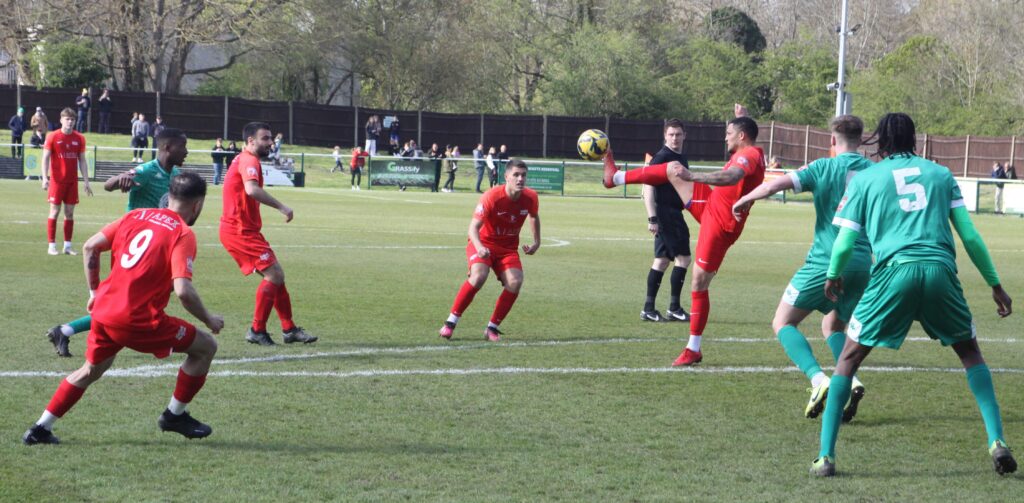 It took until early in the second half but the Moles pressure finally paid off. A short free kick down the right is recycled by Harrison Bayley and he finds Connor Holland who is able to flick the ball back into the box for Liam Gavin to head into an empty net – the ball just crossing over the line.
Both teams then had great chances to take the lead. First, some great work down the left from Heath who worked a bit of space and managed to put in a cross for Harry but he couldn't quite poke the ball home. Then Leatherhead, from a wide free kick, smacked the post with the ball falling safely. This chance started a large period of pressure by Leatherhead but some resilient defending from the Moles back line kept them out.
This pressure paid off eventually as Leatherhead re-took the lead with just over 10 minutes remaining when Dave Tarpey slotted in his 16th league goal of the season.
With 10 minutes to go, and Binfield needing a goal, we all know the drill – Liam Gavin up front. The Moles came close to an equaliser in the 90th minute when Pagliaroli's attempted cross came crashing off the bar.
Binfield FC then equalised with minutes of the season remaining when Jonny Denton's excellent corner was met by Gavin who headed it into an empty net.
The point means the Moles finish sixth. A rollercoaster season but they fought all the way through to the very last minute. Time now for everyone to have some well-deserved time off before getting back to it in pre-season.
You can check out our FULL MATCH GALLERY from yesterday's draw…