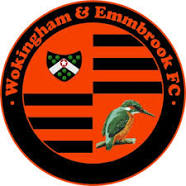 After a disappointing start to the league season, the Moles are on the road for the first of two cup games. This one is trip to Wokingham & Emmbrook FC in the Preliminary Round of the FA Cup.
Matchday: August 18th, 2023
Kickoff: 7.45 pm
About Wokingham & Emmbrook FC
Wokingham Town, founded in 1875, experienced local league success before entering various leagues including the Metropolitan, Delphian, Corinthian, and Athenian Leagues, and finally the Isthmian League in 1973. Achieving promotion to the Premier Division in 1982, they reached the first round of the FA Cup in 1982–83 and the FA Trophy semi-finals in 1987–88. Financial difficulties led to a decline in the 1990s, resulting in relegations. They moved grounds several times, ultimately settling at Emmbrook Sports's Lowther Road. The club's fortunes improved, winning the Reading Senior Cup in 2008–09, gaining promotion, and participating in the FA Cup. The plan to merge with Woodley Town didn't materialize. Wokingham & Emmbrook won consecutive Reading Senior Cup titles in 2012 and 2013, while also achieving league success in the Hellenic Division One East. Their Reading Senior Cup victories continued, winning four times consecutively until 2015, alongside their first-ever league title. In 2021, they were promoted to the Combined Counties League Premier Division South due to their performance in the abandoned 2019–20 and 2020–21 seasons.
This Season
The Moles kicked off their season with a disappointing 6-0 defeat away to Ashford Town (Middx) FC. Wokingham & Emmbrook FC started their season the weekend before with a 1-0 against Cinderford FC in FA Cup followed by a 3-1 defeat to Reading City in their first league game.
Last season, in the FA Cup, Wokingham & Emmbrook lost in the Extra Preliminary Round 3-2 to Ardley. The Moles lost 5-3 to Beckenham Town in the 3rd qualifying round, beating step 2 Tonbridge Angels 4-0 in the 2nd qualifying round on the way.
Tickets
Prices are;
Adults – £8
Concessions – £4
Under 16 – £1. Free if wearing wearing home or away colours
Tickets can be purchased online or on the gate.
About Lowther Road
Address: Lowther Road, Wokingham, Berkshire, RG41 1HY.
Nearest Station: Wokingham.