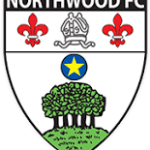 Following a pitch inspection, this game has been postponed. The website will be updated as soon as a new date is announced.
Third time lucky. After two postponements (and a short notice friendly), the Moles travel to Northwood FC in the Isthmian South Central Division.
Matchday: Wednesday January 25, 2023
Kickoff: 7:45 pm
About Northwood FC
A team was formed in Northwood back in 1899 but Northwood FC in its current form is believed to have been founded in 1926. Their initial history is unclear but they joined the Harrow & Wembley League in 1931 where they won an impressive six titles in a row prior to World War 2 and three more titles after the war. They spent the 1950s and 1960 playing mainly junior-level football.
The club joined the Isthmian League in 1992 via spells in the Hellenic and Spartan Leagues. This was one of their most successful periods which lead them gaining promotion to Step 3 and the Premier Division. They were then switched to the Southern League Premier Division but after relegation were moved back to the Isthmian League Division One North. Another switch back to the Southern League before they were moved back again to their current league – Isthmian League South Central.
Head To Head Record
Last season, it was the away team that came away with the honours. The Moles coming away with a 3-0 victory away but then losing 1-0 in the reverse fixture at Hill Farm Lane.
Both teams games were called off on Saturday due to the weather. However, the Moles managed to schedule a friendly against Step 3 side Hayes & Yeading FC.
Northwood sit in 2nd place, one place behind leaders Basingstoke Town whilst the Moles in 7th but with games in hand over the teams above them.
Tickets
Prices are;
Adults £10
Concessions £5
U16s Free
Matchday programme £2
About Skyline Roofing Stadium
Address: Northwood Park, Chestnut Ave, Northwood HA6 1HR
Nearest Tube: Northwood Hills